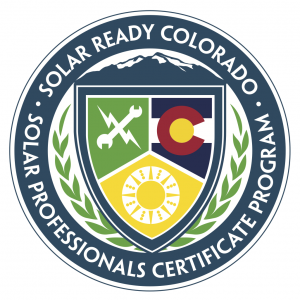 Building upon Solar Energy International's (SEI) technical solar training program that has been in operation for over 25 years with over 45,000 alumni worldwide – SEI is launching a Colorado based training and career outreach program titled – ​Solar Ready Colorado: Solar Professionals Training and Outreach Program​.
SEI will lead a team of industry partners to promote and offer SEI's industry recognized technical solar energy training program and provide needed recruitment and career counseling services to key industries and workforce populations in the State of Colorado.
SEI will build upon current and past industry partnerships that include leading industry associations and the largest employers in the solar industry. These efforts will ensure Colorado's talent pipeline will stay strong and be a national model for preparing our state's workforce for the changing landscape of energy production and distribution. Solar Ready Colorado partner organizations include: Grid Alternatives | Colorado Office, SunRun, Colorado Solar Energy Industries Association (COSEIA), and the Delta County, Colorado Public School System.
Since 1991, SEI has trained over 1000 Coloradans, but there is more work to be done to ensure a highly skilled workforce ready to take on the increasing amount of solar installations being integrated year after year. The Solar Ready Colorado initiative is focused campaign to expand SEI's efforts in the activities of outreach and recruiting by providing dedicated staffing and outreach efforts to the Colorado specific market. As a national and global training provider, this program which is part of a matching grant program through the Colorado Department of Labor and Employment's WORK Act Grant is empowering SEI to focus efforts in our home state of Colorado. Watch overview video of the SEI's training experience >>
SEI's current and historical training and outreach efforts over the last 25 years has resulted in growing the largest alumni network of people from all 50 states and more than 160 countries. With this is mind, we can do more for our home state of Colorado by targeting candidates within our own state's boundaries to increase the number of individuals who enroll in and complete SEI's skilled worker training program to prepare them for careers in the renewable energy sector. In 2015 alone, SEI trained 170 Coloradans and have trained over 1000 people from our home state since 1991. With a dedicated statewide effort – we can train so many more!
By creating a more targeted focus of outreach and training within Colorado, SEI will be able to increase the number of Coloradoans who can fill the predicted skilled workforce shortage in Colorado specifically in the solar industry. In a recent 2015 solar jobs report, Colorado ranks in the top 10 nationally for solar jobs with almost 5000 employed in the sector growing exponentially (over 173% growth in the last 10 years) as compared to other energy sectors like coal mining activities. Colorado is attracting large solar PV investors and projects into our state and it is crucial for Colorado to have a trained and skilled workforce to take on these projects vs. skilled labor human resources being brought in from other states.
Coloradoans need to be aware of the solar industry and the growth of career opportunities in this sector. Furthermore, they need to understand how to access the training and certification needed to become active participants in this industry. In addition to providing the industry's most respected technical training, a targeted informational campaign will be deployed to help connect people with transferable skills into SEI's training program and connect them with our program employer partners. This will be accomplished by working with the Colorado Department of Labor and industry partners who have agreed to be active members of this program.
SEI's training and outreach program will ensure an employment pipeline within Colorado to not only prepare adult skilled workers with transferable skills, but also youth. This program will target graduating High School students through SEI's Solar in the Schools Outreach Career and Technical Education program to prepare them for the solar energy workforce and the growing renewable energy economy in Colorado.
The solar industry plays a huge role in leveraging workers from Colorado's key industries. From Energy & Natural Resources, Infrastructure Engineering, Technology & Information, and Electronics – the solar industry draws upon all of these areas to successfully deploy residential, commercial, and utility scale solar PV installations across the state.
The SEI Solar Professionals Certificate Program is a rigorous multi-course / multi-track technical training program to help ensure the success of our students and provide a highly skilled workforce for the solar industry. This program provides the most comprehensive technical training in the solar industry with paths to graduation and earning the following SEI Professional Certificates: Residential and Commercial Photovoltaic Systems Certificate – Battery-Based Photovoltaic Systems Certificate – Solar Business and Technical Sales Certificate – and the Renewable Energy Applications Certificate. Multiple Certificates can be earned by adding courses to an original Certificate Path.
Educational hours earned from SEI's training is approved for NABCEP Certification and Continuing Education, which is the most recognized certification in the industry. Employer partnerships through this grant will also strengthen the feedback loop between industry and SEI as the training provider to determine current, future, and critical solar industry workforce needs.
An individual Record of Completion with earned training hours will be issued at the end of each successfully completed individual training course. Once the participant completes the full multi-course program of training with SEI (completing at least 200 training hours), the SEI Solar Professionals Certificate will be awarded to the graduate to indicate the chosen track of study, area of emphasis, and total training hours earned. This SEI Solar Professionals Certificate Program is recognized, certified, and governed by the Colorado Department of Higher Education's Division of Occupational Schools.
For more information about SEI's Solar Ready Colorado initiative, contact:
Christopher Turek, Director of Marketing and Alumni Relations, Solar Energy International (SEI) – chris@solarenergy.org or by calling 970-527-7657 x115
The post Solar Energy International (SEI) Launches Solar Ready Colorado Training Outreach Program appeared first on Solar Training - Solar Installer Training - Solar PV Installation Training - Solar Energy Courses - Renewable Energy Education - NABCEP - Solar Energy International (SEI).