Solar Energy International's Programa Hispano (Spanish Program) welcomed thirteen students from all over Latin America to SEI's solar training facility in Paonia, Colorado. The students came to SEI to attend "FV201L: Laboratorio Fotovoltaico de Sistemas Conectados a la Red- Práctico or Grid-Direct Photovoltaic Systems Laboratory. The class was taught entirely in Spanish by SEI instructors Brad Burkhartzmeyer and Chris Brooks, and assisted by the Spanish Program's three newest instructors in training! The weeklong lab emphasized hands-on solar installation training in a lab setting, exposing students to an array of systems they're likely to encounter in the field.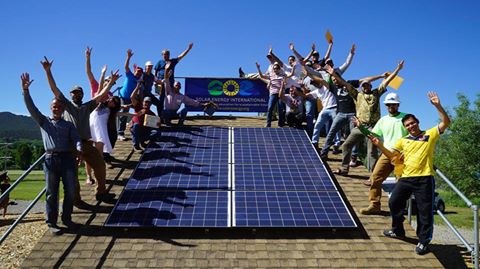 The Spanish Program was founded in 2013 with the purpose of establishing SEI as a leading renewable energy training provider in Spanish speaking countries, with a focus in Latin America. Since 2013 over 2,000 Spanish speakers have participated in solar installation trainings through the efforts of the program. During this time the Spanish Program has also provided contract trainings in collaboration with governments, solar companies and EPC's throughout Colombia, Costa Rica, Mexico, Chile, and Equatorial Guinea.
The Spanish Program has a dedicated team of instructors and program developers who are working on creating and providing the highest quality curriculum and training experience available for Spanish speakers. The Spanish program builds on Solar Energy International's mission to to provide industry-leading technical training and expertise in renewable energy to empower people, communities, and businesses worldwide. Since the program's inception, it has been extraordinarily effective in bringing SEI's legacy of providing high quality solar installation training throughout Latin America.
To learn more about the program offerings for 2016 or for what SEI can offer in your country visit us online at www.solarenergy.org/programa-hispano/ or email Paulina Dunham at paulina@solarenergy.org.
The post Solar Energy International's (SEI) Spanish Program Completes Solar Installer Training Lab Week appeared first on Solar Training - Solar Installer Training - Solar PV Installation Training - Solar Energy Courses - Renewable Energy Education - NABCEP - Solar Energy International (SEI).