SEI Welcomes New Instructor: Laura Conchelos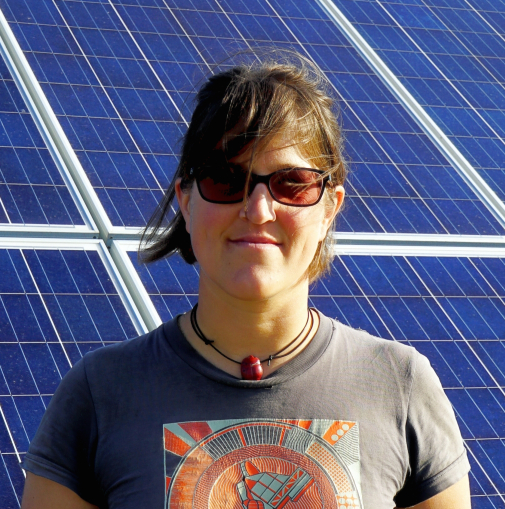 SEI Alumni Laura Conchelos recently came back to Solar Energy International (SEI), this time as an instructor. Prior Laura to coming to SEI, Laura spent seven years doing seasonal construction work where gained some experience with solar electric systems while working on off-grid cabins in New Hampshire. Her experience is like the many others who come from a construction background, bringing the many transferable skills when they make their career transition or expansion into the solar industry.
It was a coworker in her former job that recommended SEI to Laura which eventually led to her enrollment in SEI's solar PV training program. After she'd gotten a solid framework, it was SEI's alumni and industry network that helped Laura land a job.
"My first job in the solar industry was in Santa Fe, New Mexico. Kathy Swartz (Executive Director of SEI) gave me the idea of the company to apply to. I did and spent the next three and a half years working there doing mostly grid-tied installations with a with a number of other installers who had also been trained by SEI"
Being on an install crew where everyone had received solar installation training made a huge difference in the quality of the work say Laura "The company I worked for was really focused on training, on bringing people in slowly and giving people a really well-rounded experience. We got training on the job but the installers and designers we had that had been trained previously came with a good solid background and definitely knew their way around the roof and and around tolls and also were very familiar with the safety protocols involved in working with solar."
Laura has recently moved back to Colorado working as a NABCEP Certified Installer and teaching at SEI. Her experience with a company that emphasizes training had a marked impact on her commitment to ongoing education in the industry. "Even though I've I've been in the industry for a few years now I definitely think it's important to keep taking training and finding out what's new in the industry. And there's a requirement for training when you're NABCEP Certified to take a certain number of hours of training to recertify. Regardless of the certification however it's important to keep up with changes in the industry and the National Electric Code and training is a good way to do that."
SEI is proud to welcome Laura to the team. She just completed her first teaching job instructing PV101:Solar Electric Design & Installation (Grid-Direct) and PV201L: Solar Electric Lab Week (Grid-Direct).
The post SEI Solar Training Instructor Spotlight: Laura Conchelos appeared first on Solar Training - Solar Installer Training - Solar PV Installation Training - Solar Energy Courses - Renewable Energy Education - NABCEP - Solar Energy International (SEI).