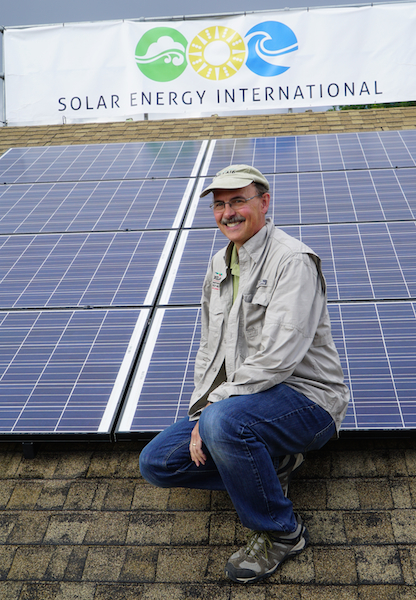 For Patrick Bunton, the story was always bigger than solar, however photovoltaic technology has always been a constant. A Professor of Physics at William Jewell College, Patrick came to Solar Energy International as student instead of a teacher. He attended SEI's PV 201L solar installer training, a week-long, hands-on lab class where students experience the installation and commissioning of multiple PV systems. However, his first contact with SEI was during a hands-on solar training course in Costa Rica: Renewable Energy for Developing Nations. He enrolled in the class with the belief that course would helpful to the Physics Department and his students.
And he was right. The Physics Department at William Jewell recently revamped their program to emphasize sustainable solutions like renewable energy. Patrick says the Physics Department "utilizes sustainability as a motivator and as a tool for physics education. You can teach an awful lot of physics using solar and wind power. We want our graduates to have world impact. We want to show them that their skills matter and that that can make a positive impact using their degree." When prospective students are visiting campus, Patrick advises students interested in pursuing math and science degrees about the importance of energy and its role in international development issues when they think about their future careers. In fact, a recent student told him that she majored in physics because she wanted to change the world.
Patrick himself is a great example of using technical skills and solar technology in a really impactful way. He is an advisor to the board of Xela-Aid, a non profit development organization working with Mayan communities in Guatemala. The organization is currently working on developing a new community center designed from the beginning to be solar powered. The organization does workforce development and training. They've also collaborated with Patrick and William Jewell College to do educational camps for children in the community. For instance, in partnership with Xnneela Aid, William Jewell students and faculty travelled to Guatemala to lead a science and technology camp for Mayan youth. The campers learned to build solar powered lanterns in mason jars which they then brought home, frequently to residences that had no electricity.
Patrick has continued to teach and continued to learn. His story reminds his students and his SEI classmates all over the world that they can use their technical skills for all sorts of applications. Best of luck to him and the current and future students in the program!
The post SEI Alumni Highlight: Patrick Bunton – A Story Bigger than Solar appeared first on Solar Training - Solar Installer Training - Solar PV Installation Training - Solar Energy Courses - Renewable Energy Education - NABCEP - Solar Energy International (SEI).